| | |
| --- | --- |
| Posted by Goh Chun Hui (Jack Goh) on February 24, 2013 at 4:30 PM | |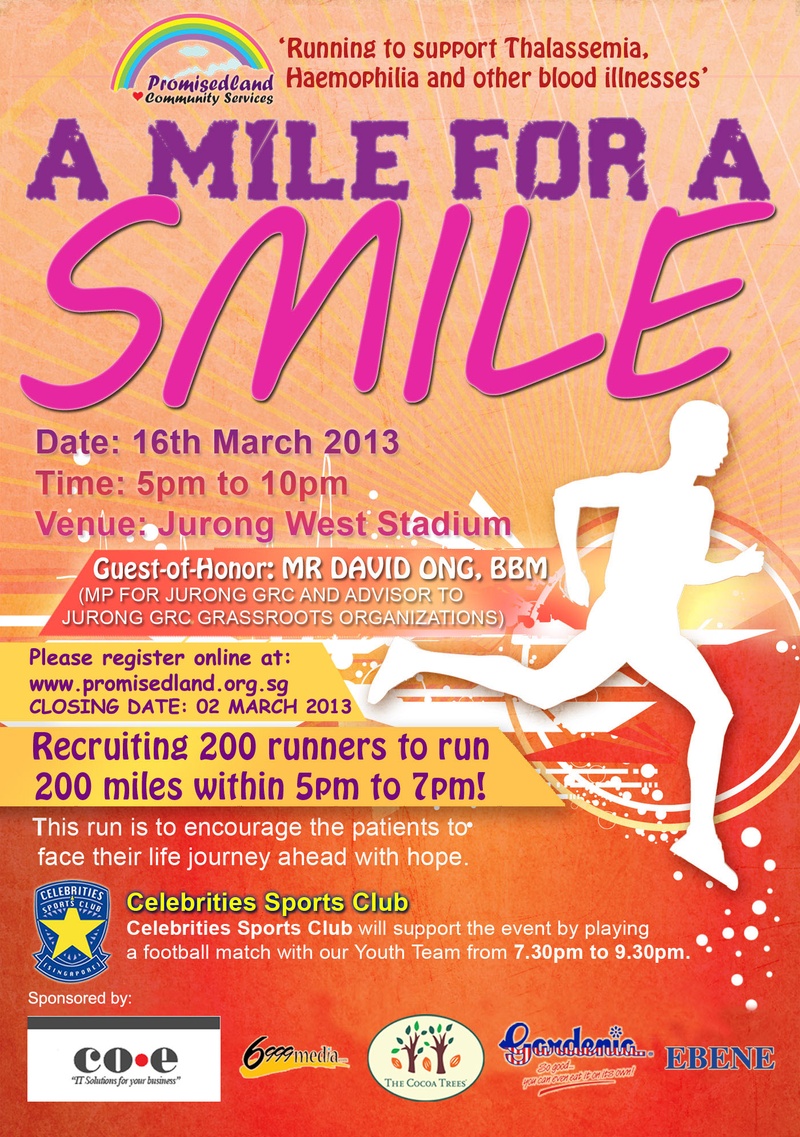 Running to support Thalassemia. Haemophilia and other blood illnesses
Date of Event: 16th March 2013 (Saturday)
Time: 5pm to 10pm
Venue: Jurong West Stadium
Website: http://www.promisedland.org.sg (To Register)
Running to support Thalassemia, Hamophilia and other blood illness
Patients face lengthy period of time battling the illness. Along the way, some of them start to doubt and thoughs of giving up starts to build within them. We plan to have a physical show of support to them. We will have volunteers running throughout the whole event. This is to show patients that we are willing to "run" with them throughout their treatment period. Hence, the theme: "A MILE FOR A SMILE"
We are recruiting 200 runners to run 200 miles within 5pm to 7pm. The reason for this run is to encourage the patients to face their life journey ahead with hope.
Awarness booths for blood related illness 
Awareness booths will be set up by KKH Hematology Department. This will help the public to gain better understanding of the blood related illness.
Celebrities Sport Club
Celebrities Sport Club will support the event by playing a football match with our Youth Team. The football game will commence at 7.30pm to 9.30pm. Hopsital staffs, patients and their families are invited to watch the game.
Other activities    
Goodie bags for the volunteer runners
Invitation of Minister to grace event
Crowd Control and Safety Measures
Volunteers would be on site in helping of crowd control and also first aiders would also be engaged throughout the event for the safety of the "runners".